A Salem native who wanted to work locally has marked her 25-year anniversary with Byler, Wolfe, Lutsch & Kampfer CPAs, Inc.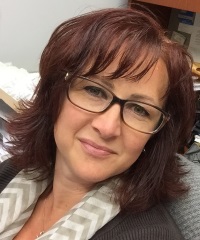 Laurie Chaffee, a certified public accountant and manager at the Salem office, reached the milestone this Spring.
"I wanted to stay in the local area," said Laurie, 48, still a Salem resident. "Over the years I have developed good relationships with many of my clients and in the community. We have a good team in our Salem office, and each of us has specialties."
Among Laurie's strengths is work with Intuit QuickBooks accounting software. She does most of the firm's QuickBooks training and consulting.
Her work also includes tax return preparation, accounting and financial statements and business consulting.
"She's become an instrumental component for all of our client services, including tax, consulting and financial statement preparation," said firm principal Rick Lutsch.
Laurie graduated summa cum laude from Youngstown State University in 1990 with a bachelor's of science degree in business administration. She had amassed real-world experience by that point through her work for a professor who had a tax practice.
The offer from BWLK's predecessor, A.S. Fricano Inc., enabled her to stay in the Salem area.
"I wanted to work in public accounting, and I lived in Salem, so getting an offer from a firm so close to home was great," she recalled.
Laurie started as a staff accountant, entering data and preparing simple tax returns and payroll reports. She "learned quickly that the neat and tidy exercises they teach with are nothing like the real-world accounting problems, especially when working with small businesses," she said.
As QuickBooks became more popular among small businesses, Laurie was "elected" by her colleagues to bone up on it. Her work as a certified QuickBooks consultant now ranges from helping clients complete a new install to answering a few questions to various levels of service in between.
Over her 25 years, she's become involved in the community. She is now treasurer of the Salem Rotary, where she's been a member for 18 years, and has served on the organization's board.
She has also served on the board of the Salem Area Chamber of Commerce and was a treasurer of the Salem YMCA.
Asked what BWLK clients like about the firm, she points to its local roots. In addition, "we are willing to tailor our services to meet the needs of each client," Laurie said. "We do our best to provide quality services while keeping our fees affordable."