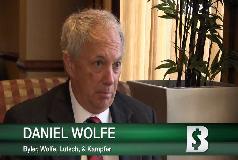 Tax reform is complicated. But when you get a group of tax accountants all in one room, the topic seems a little more simplified.
Recently, the Youngstown Business Journal invited some of the Mahoning Valley's best and brightest tax accountants to participate in a roundtable discussion about the complexities of the state and federal tax codes.
Our Daniel Wolfe was among those offering his viewpoints. Comments from Dan and the other accountants were featured in the Business Journal's print and online editions.
Dan was also featured in the newspaper's '3 Minutes With' video, which can be viewed here.